Technical Support
TSC provides technical support to both businesses and consumers. We can also help those who are new to computers and don't understand the technical articles available online. We will walk you through solving your problem. We offer support via e-mail, online via live chat and over the phone. The Shipping Company, Inc. has competitive rates, and will get you the answers you need. With our expertise and ability to explain complex concepts in simple terms, we can get your issue resolved. Check out our competitive rates. Don't waste time only to end up at the same place you started. Contact us today!

Want to solve that problem today over e-mail for only $5.00? Complete the process over the web by completing our technical support form here. All it takes is 1) filling out a form, 2) submitting your payment with Paypal, and 3) within 24 hours you will have a response.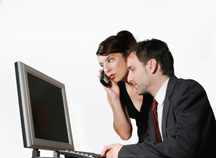 Prefer to solve your problem over the phone? Send us an e-mail with your name, phone number, short description of your problem and the best time to contact you. We will call you at the time you specify and provide you with the technical support you need \=

Click on the 'Help is here' logo to get the technical support you need now!

For those of you that need technical support on a regular basic, contact us for information on purchasing support in blocks. Save money by purchasing technical support in bulk.

We offer technical support for most programs. Below is a list of some of the programs we provide technical support for.

For terms and conditions see bottom of this page.
| | |
| --- | --- |
| Windows Operating System | Our trained technicians can install and configure all versions of the Windows operating system. Need to upgrade from Windows 98 to Windows XP? We can help you do that. Having a problem with your PC at home? We can diagnose and repair the problem for you. |
| Macintosh Operating System | We have technicians available who specialize in working with the Macintosh operating system. Having a problem you can't solve? Chances are, we can! |
| FileMaker Pro | Our FileMaker Pro developers have been working with FileMaker Pro for an average of 10 years. Stuck on how to complete your database? We can help point you in the right direction. |
| Microsoft Office | We can purchase, install and configure Microsoft Office to meet your specific needs. Need help with that mail merge? The Shipping Company, Inc. can help you complete your project. |
| Adobe PageMaker | Adobe PageMaker is a desktop publishing program, and our highly trained staff can help you make the most of this program. |
| Adobe Photoshop | Adobe Photoshop is a graphics program, and we can help you to maximize your return on investment. |
| Adobe Acrobat | PDF files play a critical role in the business environment today, and we can get you set up, whether you need to created PDF documents on one computer or across a network. Can't add that checkbox to your PDF? Let us show you the way. |
| QuickBooks | QuickBooks is an accounting system and we can install and configure it for you. We can help you configure QuickBooks to print your checks, generate reports and more. |
| FrontPage | Want to develop your own web pages? We can set you up with Microsoft FrontPage so you can begin to create your web presence. |
| Macromedia Flash | Need to create animations for the web? Macromedia Flash is the program for you! We can get you a copy of the program and get you on your way. |
| Blueworld Lasso | Our Lasso developers have years of experience and can create a site for you using Lasso. Just need some help completing your project? We can do that too. |
Terms and Conditions

All technical support services must be pre-paid.
Technical support via e-mail and chat are limited to one subject per $5.00 charged.
Chat conversations are limited to 15 minutes. Each additional 15 minutes requires an additional $5.00 charge.
Should our technical support representative not be able to answer your question, your payment will be refunded.
We currently only accept payment via PayPal for technical support services.
If you have any questions about this service, please contact us.